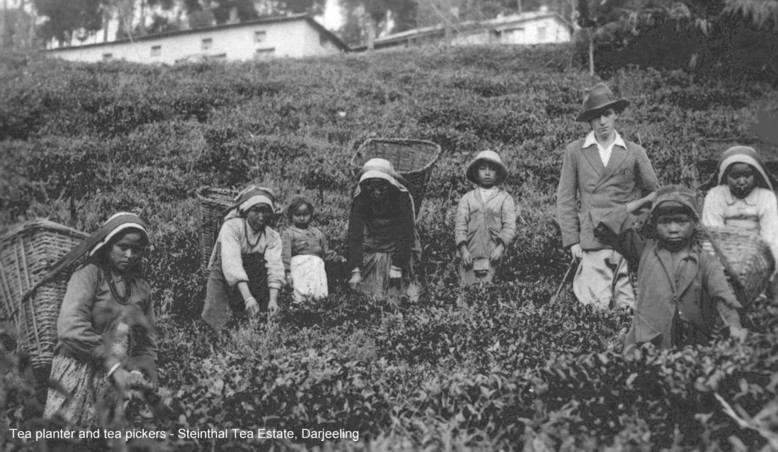 This photo is found at: http://oldmhs.com/older_darjeeling.htm and the caption reads, "
Tea Planter with Tea Pickers, Steinthal Tea Estate 1930s
"
Recently, I purchased a package of Darjeeling First-Flush Steinthal FTGFOP1 from TeaGschwendner. Now, readers of this blog (both of you) might know that I live very near one of the only TGs in the U.S., and that I passionately love their line of Darjeelings, which have been a source of great tea education and pleasure for me. Nevertheless, I have had some struggles with their Steinthal Estate first-flush Darjeeling.
I've tried this tea in the past, and I've never really been happy with the results. I assume the fault was with me and my preparation methods, so I am trying again. After the third pot of the tea this week, I think I've got it. Sort of.
THE BACKGROUND
The
Tea Gschwendner Web site
says this:
Founded in 1852, Steinthal is one of the oldest gardens in Darjeeling. Many of the original plants still thrive in a place where the tradition has been First Flush excellence. Fresh and herbaceous with subtle muscatel peeking through, the Steinthal packs a sizeable bite with the hallmark astringency that First Flush fans adore.
THE PREPARATION
6 level teaspoons for 1 liter (about 4 cups) filtered, boiling water. Strictly 2 minutes steeping time, in the lined, cast-iron Japanese
tetsubin.
Accompanied by McVitie's Hob Nobs. I am hoping for better results if I am extremely careful to follow Tea Gschwendner's steeping directions.
THE LEAVES
Dry, they smell very much like... well, like dry leaves crackling underfoot in Autumn. The leaves are fairly small pieces, very tight, and color ranging from olive green to dark brown. Upon steeping, they take on a very lovely maybe camphor-like aroma, with a spark that reaches the upper nasal cavity in the same way that eucalyptus has-- though, obviously, not as nose-clearing.
THE CUP
This is a transparent cup with a deep golden-brown color. The tea itself has very little scent. The first cup of the tea is very astringent, a little bit harsh, and is quite strong. There are certainly floral notes, but it's not primarily a floral tea. This is all about that bite that the TG Web site mentioned.
THE SECOND CUP
I almost always like a pot of tea's second cup better than the first, because the chemistry in the pot has had the opportunity to mature the flavor. The Steinthal's second cup (of the first steeping) is smoother, but it still isn't what I would call a
smooth
tea. It's a bit harsh on the back of the throat, and it has a very pronounced flavor. Now, when I say it's a bit harsh, I mean, in comparison to other first-flush Darjeelings I am familiar with. The flavor is quite bright and attention-getting, with a very nicely lingering aftertaste of sweet garden herbs.
AND YET ANOTHER CUP
This tea seems to need some time to relax and become itself, and the third cup is much more pleasant than the first. It still has a slight burn at the back of my throat, but now there are berry flavors developing-- like blackberries, or grapes, or some such rich, sharp flavor.
OVERALL IMPRESSIONS
This is a bit of a temperamental tea, in my opinion. I've tried it a number of times, and for whatever reason, it's difficult for me to coax out of it that certain special something that I look for when I drink Darjeelings. Its brightness is just a bit harsh; its aftertaste, just a bit dull; and its subtleties seem overshadowed by the"hallmark astringency" that all the kids go on about these days. While I do like my Darjeelings opinionated, this one seems somewhat overpowering for my taste. That being said, I still like the tea, and I am likely to buy it again.